When was the last time you invested in professional upholstery cleaning for a Watertown, CT property? If it's been several years, or you've never scheduled this service, you're certainly not alone! While many property owners invest in regular floor cleaning, furniture care is often last on their "to do" list.
However, there are many benefits of regular, professional upholstery steaming and shampooing. One, this service removes ground-in dirt and debris overlooked by household cleaners. Two, cleaning removes odors and restores fabric nap, for added softness.
Keep reading to find out if it's time for professional upholstery care in your home or business. Then, call our expert upholstery cleaning contractors for your free consultation and price quote!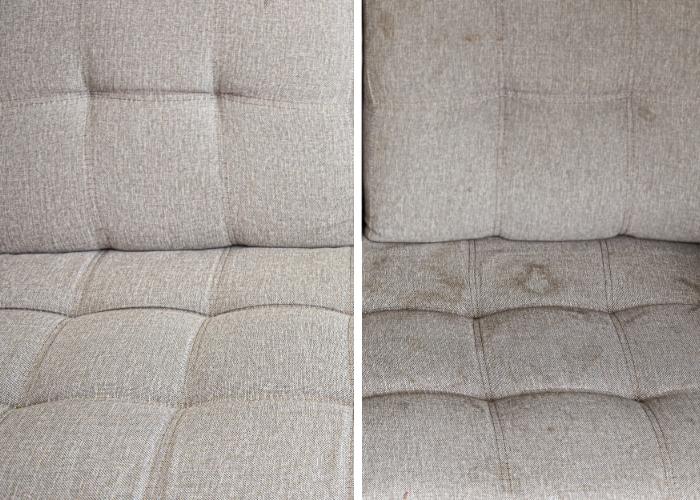 1. Odd smells? Schedule upholstery cleaning in Watertown CT
If you notice odd smells around your home or business, it's time for both carpet and upholstery cleaning in Watertown. Carpet and upholstery often trap moisture under their surfaces, creating musty smells. Additionally, carpet and upholstery can hold odors from food spills, cigarette smoke, pet accidents, sweat transfer, and so on.
However, your everyday vacuum cleaner and lightweight shampoo equipment might not tackle those odors! Simple vacuuming also can't reach the fibers holding those unpleasant smells. In turn, it's good to invest in professional shampooing for a thorough clean.
2. Spills and stains need professional upholstery care
Everyday vacuum cleaners, even those with shampoo attachments, offer insufficient care for spills and stains. One reason is that those spills often attach to fibers that vacuums can't reach. Two, trying to clean stains with everyday equipment can just push it deeper into upholstery!
In turn, it's vital that you schedule professional furniture cleaning and steaming for tough stains and spills. Our services remove residues deep in upholstery fabric and address stains completely. Consequently, you can trust that your furniture is cleaned thoroughly when you call us!
3. Discolored or faded furniture might only need cleaning
Before you decide to replace discolored or faded furniture, schedule upholstery cleaning! Professional cleaning removes dust, dirt, and other grime that tends to fade or discolor upholstery. Property owners are often surprised at the brightness of fabric colors after our services. Also, patterns become more noticeable and bolder after a thorough cleaning. As a consequence, you might save hundreds on the cost of new furniture by scheduling professional cleaning instead.
4. Upholstery cleaning restores fabric nap and softness
Are you noticing that your furniture seems somewhat dull, perhaps with unsightly flat areas, especially along seat cushions? Are the arms also flattened and even downright scratchy? If so, it's time to schedule upholstery cleaning!
Professional steaming helps loosen and lift fabric fibers, while shampooing removes dirt that flattens upholstery nap. Consequently, furniture looks and feels fluffy and soft, and like new. You also won't notice those unsightly flat spots along cushions or elsewhere after a thorough cleaning.
5. If it's time for carpet cleaning, it's probably time for Watertown upholstery cleaning
If you're scheduling carpet cleaning, consider upholstery shampooing as well! Carpets often suffer more wear and tear throughout the day but upholstery also absorbs sweat and odors as well. Also, upholstered furniture often smells musty, especially if you haven't cleaned a spill thoroughly.
As a consequence, you might ask your carpet cleaning professional about upholstery care. Bundling these two services often means a discount on both, and at least not having a contractor in your home on two separate occasions! Also, upholstery cleaning means removing all unpleasant odors, not just those clinging to carpets.
How often should you schedule upholstery cleaning?
There is no "one size fits all" schedule for upholstery cleaning. Homeowners might consider annual carpet and upholstery cleaning, and perhaps an added cleaning visit for heavily trafficked areas. Also, children and pets in the home might warrant professional cleaning every six months. Moreover, consider twice a year cleaning if you smoke, cook with lots of grease and oil, and the like.
Businesses might also consider more frequent cleaning, especially for lobby furniture and medical settings. Furniture in busy lobbies often see lots of use, resulting in built-up dirt, sweat transfer, and other stains. Additionally, furniture in medical settings should always be clean and pristine! Above all, schedule cleaning as often as needed to remove dirt, fingerprints, odors, and other unpleasantries.
Watertown Carpet Cleaners is happy to provide this quick guideline for upholstery cleaning in Watertown, Connecticut. If you're in the market for expert services, turn to our Watertown carpet and upholstery cleaning contractors. We provide guaranteed services at affordable prices. For your free consultation, contact our customer care team today.